Rate Info
We challenge you to find more qualified riggers at a better price.
Our competitive prices, ability to minimize downtime, and finish the assignment within the designated time frame places us ahead of any other rigger in the Kansas City area.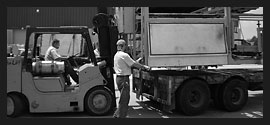 Standard Price Sheet
Description

Charge

Man (Millwright/Rigger)

60.00 /hr

Truck (with or without trailer)

55.00 /hr

Man and Truck (Hauling Only - No Rigging)

115.00 /hr

Forklift 12k and under

50.00 /hr

Forklift 15k

65.00 /hr

Forklift 30k

90.00 /hr

Versalift 25/35

110.00/ hr

Crane

quoted per project

Gantry

quoted per project

Tarp Load

200.00

Storage

.50 /sq ft per month
Example 1:
A project utilizing 3 men, 1 truck, and a 12k forklift bills at $ 285.00 / hr.
Example 2:
A project utilizing 3 men, 2 trucks, and a Versalift 25/35 bills at $ 400.00 / hr.
Notes:
Projects are billed in 4 hour blocks.
Additional costs incurred (permits, escort costs, etc.) are not included and may be added.
Time after 8 hours per day is overtime at a rate of $90.00 per man.
Saturdays are $90.00 per man with a 4 hour minimum.
Sundays are $120 per man with an 8 hour minimum.
Projects scheduled during off hours (before 7 am or after 3:30 pm) will be billed with a labor rate of 1.5 man hour.
Labor other than millwright or rigging is quoted on a project to project basis.